Etsy bloggers-blog carnival-my favorite thing to cook
Since I love to eat, and this was one of the topics to choose from this month,AND I know people like to try recipes, I thought I'd share one of my favorites with you.
One of my favorite foods to cook and eat: LASAGNA
No, no, this is not a photo of my actual lasagna, but close. (Come on now, I had to improvise!)
My recipe is simple, but you could complicate it if you wanted to make your own sauce,(which I do on occasion), and if you wanted to make it with meat, or vegetables. For simplicity's sake, I'll give you the basics.
1 box of lasagna noodles (do not cook)
1 32 oz. (or more if you like) of your favorite sauce
16 oz. ricotta cheese
1 lb. of mozzarella cheese (I buy the block form and slice it so you get large chunks melted into the dish)
grated Romano/Parmesan cheese
Start with a 13x9 pan. Preheat oven to 350 degrees F. Put a small amount of sauce on the bottom of the pan to prevent sticking. Layer a row of uncooked noodles across the pan. (Did you know that you don't have to pre-cook the noodles? They will cook on their own in the oven)
Place some sauce across the tops of the noodles. Scoop out by tablespoonfuls of the ricotta cheese scattered around on top of the sauce. (use about 1-3-1/2 of the container) Scatter some of the slices of mozzarella around here, (use about 1/3 of the cheese). Start your next row of noodles and continue the process until you have at least 3 rows high.
Finish with a row of noodles on top, followed by sauce, some sliced mozzarella, and sprinkle the top with grated cheese. Cover the top with foil and bake for 50-60 minutes, taking off the foil at the last 10-15 minutes of cooking.
This makes a great simple, home cooked lasagna!
Why do I love it?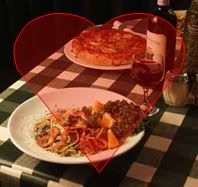 Because I love all Italian food! It is just comforting. It gives me that homey feeling. Warm, satisfying, and delicious!
What's your favorite?